The Florencia Ice Cream chain of ice cream parlors continues to open new stores with the help of the Zona IV agency.
Throughout its 360º design, the brand continues to grow in its positioning as a high-level proposal, from its products, packaging and identity, as well as in the architectural designs for its stores
.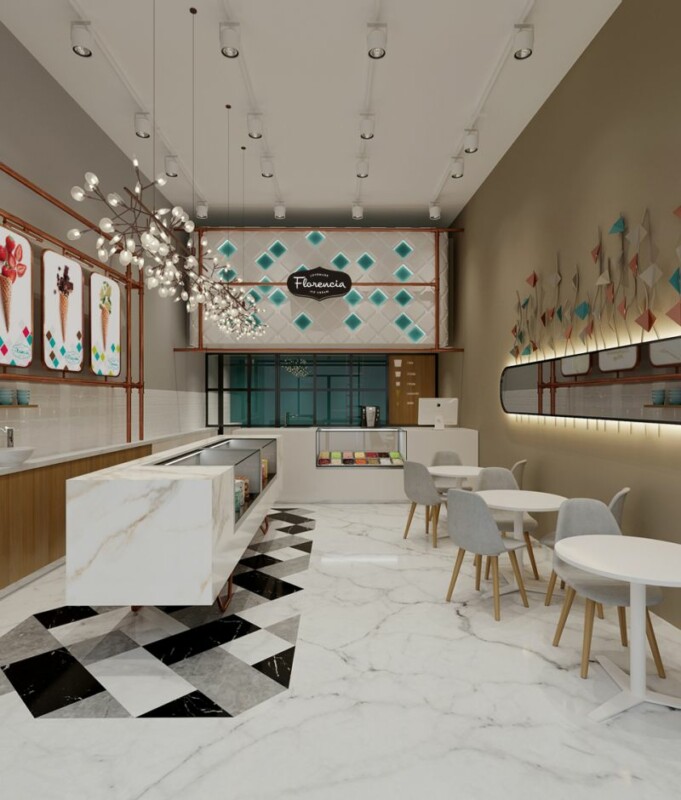 With this expansion, the challenges in the design of the store environment increase with each opening, which implies a great commitment, work and vision of growth, which from Zana IV we carry out in an interdisciplinary way, in order to capture the achievements of the brand in all architecture.
The new premises, located in the brand new Zallaq Springs complex in the Kingdom of Bahrain, is developed in double height, where each element stands out for its design, having the premium product as the protagonist.
We projected a layout with the freezer display refrigerators in the center of the premises. For this, a very ethereal Italian model was chosen that detaches them from a floor that gives them a frame like a carpet.
The identity of the space is present in a very subtle way in its architecture, so the well-defined diamonds in the volume that crowns the double height, become metallic origami in the mirror that, in turn, reflects the large copper furniture that also stands out to the product. This system is also reflected in its graphics and communication, achieving an integrality between architecture design and identity that defines the territory of brand expression.
Thanks to this great teamwork, the Florencia Ice Cream chain manages to enter the Four Seasons Baharein Hotel with a local, increasing its great positioning and reinforcing the brand presence in spaces with a high-level audience. The results are tangible, winning first place in the Luxury Life Style Awards 2021 for the Middle East as the best Life Style proposal of the region. It is a satisfaction for the entire agency to be able to see its great growth and achievements in such a short time, a brand that does not stop growing and with great plans for 2022.